It's fair to say we're kitchen enthusiasts, here at Lund and Law. We have a passion for all things kitchens – whether it's dreamy design, amazing inspiration, impressive plans or brand new products.
While designing bespoke handmade kitchens for our clients in Yorkshire, Cumbria, Lancashire and around the North West, a common debate we've heard time and time again is Aga vs ovens.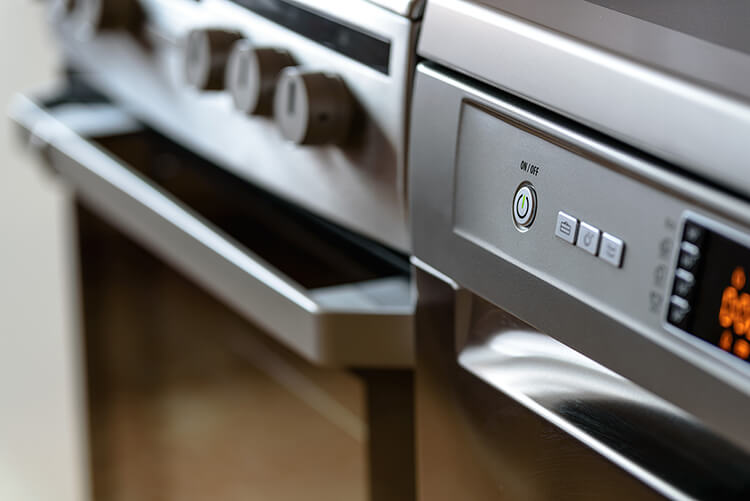 It's certainly an interesting argument and we can definitely appreciate the advantages and disadvantages of each.
Aga lovers will often maintain that the Aga is the best, and perhaps they are, but they aren't for everyone.
Ultimately, when planning a new kitchen you'll quickly discover that there are so many different types of ovens on the market it'll make your head hurt!
By researching the different options carefully, you're bound to find one that is perfect for your kitchen space and your needs.
Let's take a look at the benefits and downfalls of both Aga cookers and ovens.
Agas
• Classic design and a vast array of colour options to suit a traditional or contemporary kitchen.
• It's the hub of the kitchen – everyone will automatically make a move towards it due to the radiating heat (especially our beloved four-legged friends). Therefore it creates a lovely and sociable area in the kitchen.
• Flavours and moisture are locked in during cooking due to the way Agas cook. The heat radiating from the cast iron ovens gently cook food.
• Made in Britain (Shropshire) by skilled craftsmen.
• 70% of Agas are made with recycled materials (even car gearboxes/guttering and drain covers can be found in them!)
• They are available in several fuel options, including propane/natural gas, kerosene heating oil/electric.
• Pricey – a new two-oven model costs around £3-£4K (plus fitting costs) and the weekly cost to run can be anywhere between £13 and £43.
Our view:
Personally, we love the look of an Aga. We've always dreamed of having one – with our Labrador Zack sat in front of it soaking up all the heat. We love how well they fit in a kitchen and that they turn the room into a social area. However, we completely appreciate that it's an investment piece and you have to take into consideration your monthly bill. Agas are made to be left on all year round and this could easily lead to costly bills. Having said that, there are definitely a lot of advantages to owning one and given that they are still so popular, Aga must be doing something right!
Conventional and convection ovens
• The ovens are available in different options, colours and sizes.
• Single ovens can be fitted at eye level or under counter and you are able to grill/cook/bake in them.
• Double ovens are perfect for larger households who cook frequently as you have double the cooking space. It also allows you to set the top oven on to grill and bottom oven on to bake at the same time.
• Compact – they're a great option for smaller kitchen spaces, however the downside is that due to the size of them, they might not be kitted out to cook the upcoming Christmas dinner!
• Convection ovens (fan ovens) these cook food evenly due to the hot air being pushed around constantly. They're great as it stops the need of opening the oven and losing heat to rotate the trays/dishes.
• Temperature settings mean you can cook to standard recipes and change the temperature higher or lower when needs be (unlike the Aga – which takes time getting used to!)
• Easy to clean – when the oven is cool, trays can be taken out and washed, and the inside of the oven can easily be wiped over.
Our view:
Conventional ovens seem to be a good all-rounder. They're far cheaper to buy than an Aga and they don't take up as much room. If you're not a seasoned cook then you can stick to following the recipes that we all have at home (Aga recipes are different due to the different oven settings and can take some getting used to).
Whether you're dreaming of a kitchen with a beloved Aga, or you're happy with your trusty conventional oven, we can help bring your vision to life. At Lund and Law, we specialise in bespoke interiors, including bespoke kitchens, luxury boot rooms and bespoke utility rooms. You can call us on 01524 813333 or email [email protected] to find out more. Remember, you can keep up-to-date with all the latest news and developments at Lund and Law by following us on Facebook and Instagram.