We were delighted to have recently picked up a copy of The Westmorland Gazette and spotted none other than our very own Anthony Lund and Richard Law featured in the business section.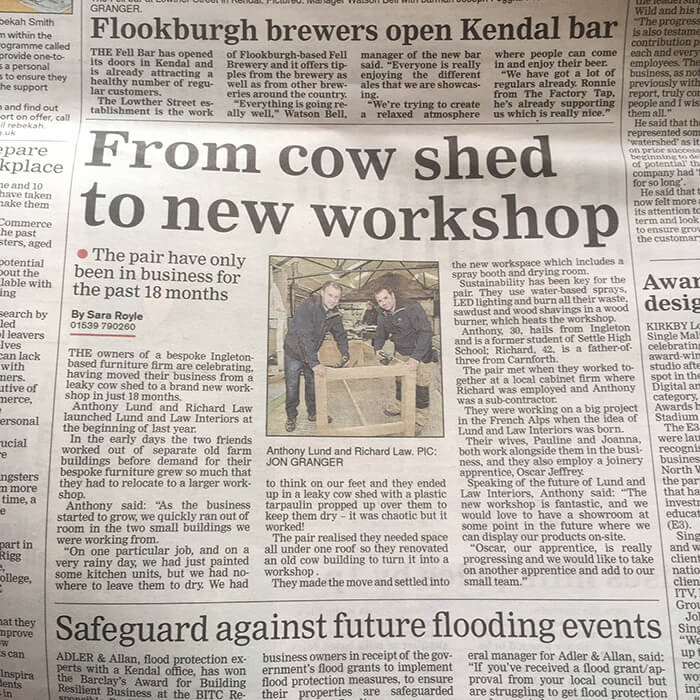 The article was about our recent expansion into our brand new workshop, including a rather amusing story about why the new work space came about. As Anthony explains: "On one particular job, and on a very rainy day, we had just painted some kitchen units, but we had nowhere to leave them to dry. We had to think on our feet and they ended up in a leaky cow shed with a plastic tarpaulin propped up over them to keep them dry – it was chaotic but it worked!
"We realised at that point we needed space all under one roof. We renovated an old cow building to turn it into a workshop that could accommodate us and all the machines. We worked evenings and weekends and after several months of hard graft knocking out old cow cubicles and digging up the concrete floor/levelling out and laying a new one, the workshop slowly started to take shape. We finally made the move and settled into our new workspace which includes a spray booth and drying room, so we can now do everything under one roof."
The article was a lovely nod to the exciting growth and future plans of Lund and Law. It was also featured online on The Westmorland Gazette website and when it was posted on Facebook, the piece received a great reaction – with a combined 50+ likes and 29 shares (and counting) from their page and ours.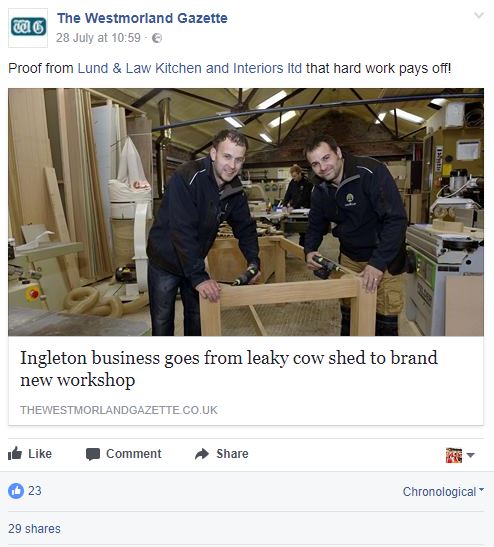 We're really pleased that the Lund and Law story is attracting some great press attention and we have many more exciting pieces lined up. We're afraid our plans are top secret for now, but make sure you're following us on Facebook where we'll be sure to keep you updated with all the latest news.